Q: How to Export Bookmarks from Mozilla Firefox to Internet Explorer?
A: First, you should export your bookmarks to a Netscape-style bookmark file.

1. From the Bookmarks menu in Mozilla Firefox, click Organize Bookmarks…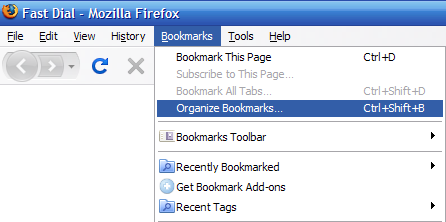 2. Select All Bookmarks tree

3. Click the Import and Backup button, and select Export HTML...
4. Save the file bookmarks.html to your Desktop.
Then, you have to import the bookmarks.html to Internet Explorer. Use the Import/Export wizard which is available under the File menu.