What is the definition of the Perfect Bookmarks Organizer?
Results of recent research conducted by the Georgia Institute of Technology have outlined the major difficulties users face managing browser bookmarks and popular bookmark organizers and they are:
- No way to determine when web page content has changed.
- No easy or quick method to categorize the addition of a new bookmark.
- The larger a bookmarks database becomes the more difficult it becomes to locate them.
- No way to optimize the organization of bookmarks.
- Large numbers of temporary bookmarks complicate task implementation.
- Identifying the original purpose of storing a bookmark relies upon memory.
- Lack of portability from one PC to another or one browser to another.
- Traditional bookmark storage methods lack user friendliness and simplicity.

How would the perfect bookmarks organizer be defined? The obvious answer is a bookmarks program that solves all the problems and issues previously mentioned.

The perfect bookmarks organizer should:
- Provide visual identification web page content change.
- Allow a user to quickly and categorically save a bookmark that permits quick identification.
- Permit grouping to decrease the amount of time needed to locate a bookmark regardless of how many bookmarks have been saved.
- Permit easy organization with a simple and intuitive Graphic User Interface. (GUI)
- Provide visual identification of bookmarks that spark immediate recollection.
- Provides a means of portability and mobility that permits bookmarks to view across different browser platforms and multiple PCs.
- Provide thumbnails that are a visual representation of the web site that can be easily managed rather than lines of text that must be read and deciphered. This is especially important for web site links that do not contain the name of the web site in them.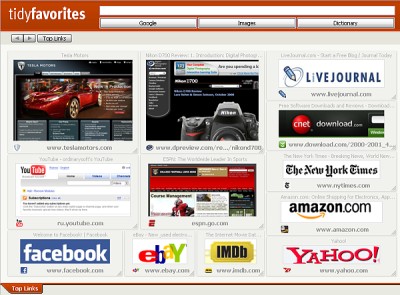 Today there are several bookmarks organizers available, but very few are truly useful and equally convenient. A program that demonstrates real solutions is Tidy Favorites. It is 100% free and with its visual dashboard represents the modern next-generation solution to managing bookmarks, replacing the traditional method of viewing text. Tidy Favorites replaces text with a quickly identifiable thumbnail that represents the actual web page content making management and locating bookmarks near instantaneous with a simply glance at the Tidy Favorites page.