Efficient Ways to Better Organize Favorites
Organizing favorites is a rather boring, tedious and time consuming process which most users avoid. Nevertheless, it is a critical part of maintaining an acceptable bookmarks database, if you are an active Internet user and value your time. The important question is - what can be done to simply your work with favorites and easier and faster?
1. The most common method used to save/store favorites is by using the bookmarks menu, which is the default method for most browsers. Using the favorites menu you can save, drag and drop to organize your favorites by categories and folders. If you have a small quantity of favorites, always use the same browser and PC, this method is probably acceptable to you. If not, a favorites organizer like Tidy Favorites is much better suited to you.
2. Another possible solution is storing/saving your bookmarks at an online service web site. Generally these services permit some modification to the favorites interface, organizing favorites by tabs and folders, provide access from any PC or web browser, supply a dashboard as a custom home page, permit favorites sharing with other users and assume responsibility for retaining the favorites. However, storing your favorites in the manner eliminates all privacy and permits any user to have access to your favorites.
3. Favorites Organizers provide all the functions of an online service plus more. They deliver complete privacy because all favorites are stored on your PC or portable flash drive (If a portable feature is available) giving you the same privacy protection as all of the data on your PC that is protected by your firewall.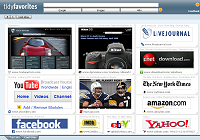 In conclusion, each user needs to identify the best method of managing and organizing favorites based upon preferences and requirements. If you desire the most flexible and most secure method of managing your favorites, download and install Tidy Favorites.